Greens Staff Update
With the recent foggy weather, I thought I'd dust off another posting from the past.
The course has been socked in with fog over the last 2 weeks, which has positive and negative benefits.  The cool temperatures have allowed us to greatly scale back on the irrigation of the course and not use as much water. The grass definitely loves the cool weather too. That's pretty much where the positives end and the negatives kick in. There are some excessively wet areas popping up all over the place, especially in the rough and under trees. One instance is when the fog is low enough and gets hung up in the trees it actually rains in many of these areas and becomes excessively wet. The other problem is the excessive wind; it never stops blowing up here and this time of year is just off the charts. I'm constantly looking at the wind forecast and researching the previous night's wind record to find out the best and least windy time to run the irrigation cycles. The photo below will help me explain what happens. The prevailing wind comes from the bottom of the photo and goes to the top (West to East). The red star indicates the location of the sprinkler head. When the sprinkler is spraying into the wind it doesn't throw at its maximum capacity and is thrown back causing the area to receive excessive water (yellow arrow).  When the sprinkler is throwing with the wind the water actually overshoots the target and causes the area to dry out (blue arrow). This becomes even more pronounced on hills and open areas.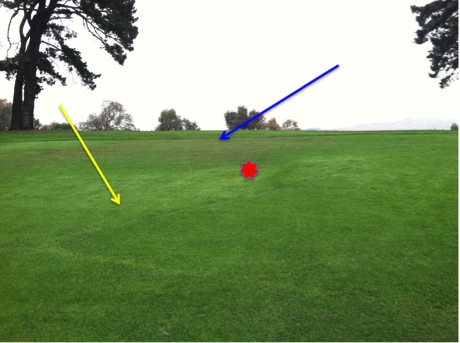 We do our best to adjust sprinklers and many times turn them off when this seasonal occurrence is in full swing. Please be mindful that we are trying to isolate these excessively wet areas and not overwater areas as best we can.