Greens Staff Update
Aerification season is in full swing; by the end of the day we will have completed 9 holes. Almost all of the holes on the front 9 have been completed and our focus over the next few weeks will be on the remaining back 9 holes.
Our cold and wet weather last week has turned into hot and dry this week. The course is starting to show its teeth regarding our irrigation inefficiencies. I decided to brush off one of my updates from a few years ago, and unfortunately, it's not a positive one. We're beginning the seasonal battle with the irrigation where we have lots of dry spots and 10' away we have wet spots. With the warm weather this past week and over 100 new members that haven't heard this before, I've decided to send it out again to refresh everyone's memory of the challenges we face.
I've talked about the irrigation issue we have been dealing with at length. From the fog, to the pressure, to how far apart the heads are spaced. Typically, we get rain from October to May and we rarely get a long stretch of 90°F+ weather. When we do get those extreme weather conditions, typically the summer months, the course reveals its flaws and areas that need attention. I like to use a tool that many don't think about, aerial photographs. Have you ever flown over a golf course or sports field and it looked like there was a bunch of green doughnuts everywhere? The photo below illustrates how incorrect spacing effects the turf: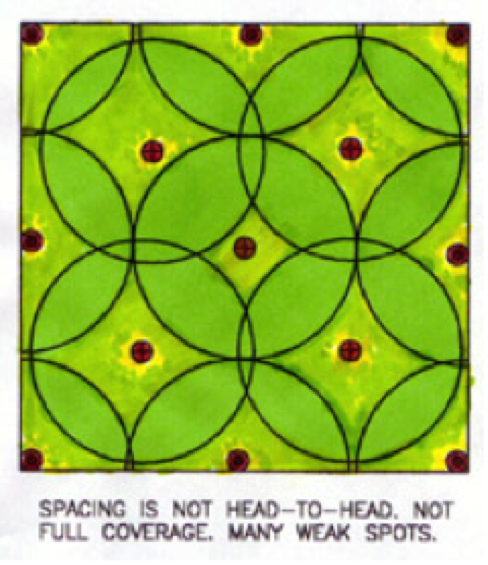 This photo illustrates what proper head spacing should look like: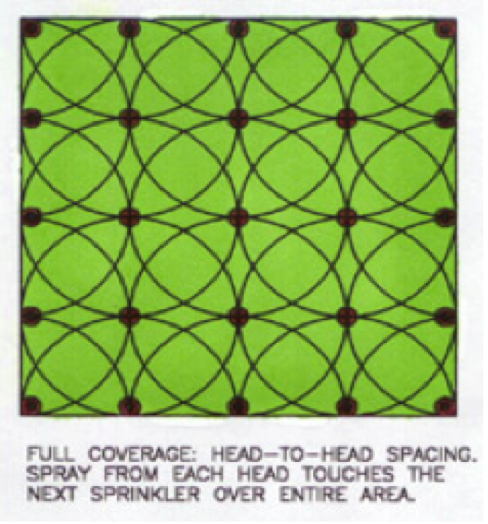 Take this picture of #3, which was taken a few weeks ago: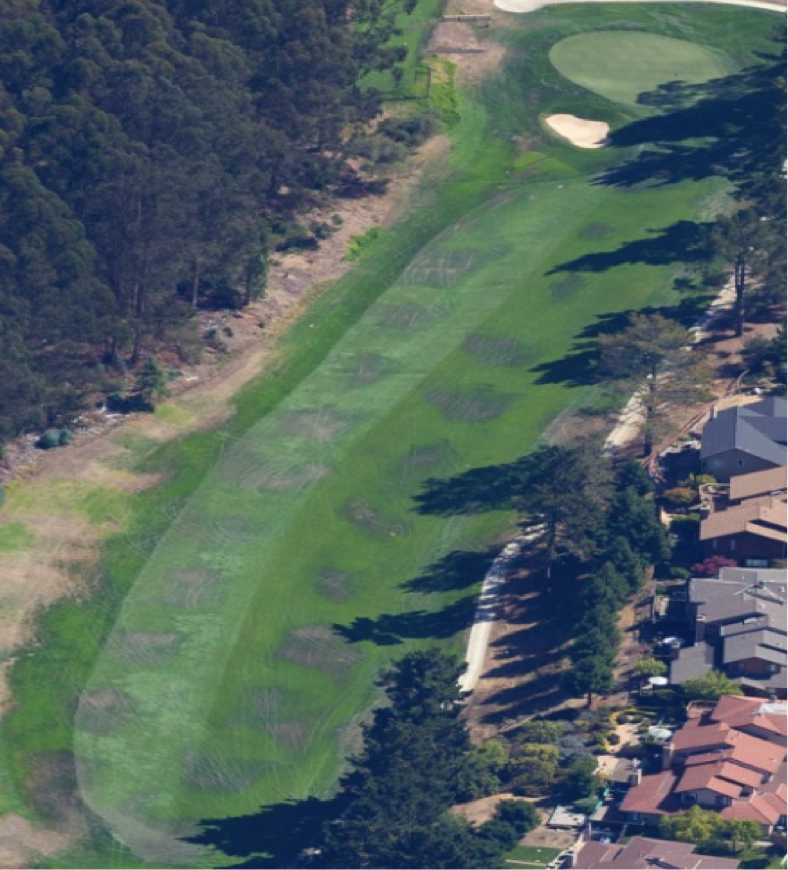 What you see is an irrigation system that's not properly spaced. On average, we are spaced anywhere from 65'-90' apart, the manufacturers recommendation states designing for zero (0) mph wind conditions is not recommended. Design for worst wind conditions (don't forget the manufacturer does their calculations on a nice flat piece of ground that doesn't have any trees, mounds or slopes that get in the way). Our average wind speed is 4mph, but we all know it gets windier than that out here. If we were to space the heads assuming an 8mph wind, we should space them at 45% of their diameter, making them about 58' apart. That's leaves us with a minimum 7' dry spot that isn't getting the proper amount of water. Don't those dry spots in the photo above look to be 7' or bigger in size? There are about 10 distinct dry spots from the start of the fairway to the end, there are also 10 lateral lines of irrigation spaced at about 65'+ apart. If they were spaced properly at the 58' spacing we would add roughly 2 more lateral lines and 8 more sprinklers. That would really reduce the size of those dry spots. With the irrigation system that is currently in the ground you're going to have a wide range of conditions…wet areas and dry areas. Our job is to try and make these extremes not so extreme, by doing the best we can with the cards we're dealt.
Hopefully, this article sheds some light on the challenges we are facing on the golf course. We are constantly trying to stay one step ahead of the ever-changing conditions. This includes adjusting heads on a daily basis, raising/lowering run times, adjusting arc, changing out nozzles and adjusting trajectory.